Grief Recovery Seminar
Sat. 12/9, 2:30-4pm, Fellowship Hall (school gym lobby)
Karen Fordham will bring her freshly updated workshop to us!
Please invite all who have experienced a loss of a loved one due to death or divorce.
Feel free to bring food and join us at 1pm for potluck and fellowhip before the seminar.

Please RSVP for your free materials and seats through "Contact Us" at the bottom of this page, by calling the church office, or emailing standifergapsda@gmail.com
by Tue., Dec. 5.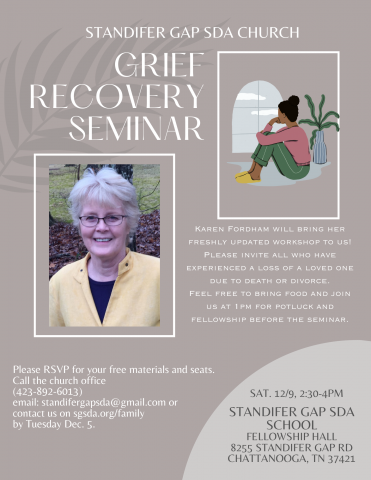 Blood Assurance
You can save up to 3 lives with 1 donation!
1 in 3 people will need blood at some time in their life.
Ages 16+ High school heroes earn credit(s) toward a "Cord of Courage" for graduation!
Eat a good meal within 4 hours before donating and drink plenty of non-caffeinated fluids.
Snacks, gifts, and a mini-physical are provided by Blood Assurance!
For more info on incentives, preparation, etc:
https://www.bloodassurance.org/
Give at Blood Assurance Donor Centers anytime with our code: 9001402


Mental Health Day - 2022
"Mental Health & Mission: You Cannot Pour From an Empty Cup"
https://youtu.be/o0GEAdOYbwc?t=3557
Speaker: David Sherwood, Licensed Marriage & Family Therapist
www.davidsherwoodcounseling.com
Mental Health Coach/First Responder Training
1 in 5 people suffer from a mental health problem each year. Most never get treatment. Those who do wait an average of 11 years from the onset of symptoms! 75% of these disorders are in place by age 24. But there is hope! Research shows that people are more likely to seek help from a church than a mental health care provider. We can make a difference!
The American Association of Christian Counselors is offering a 42-hour, online, at-your-own-pace, biblically-based, clinically-excellent training for church members. The AACC's Light University has waived the $2400 tuition for this course due to the current mental health crisis. "Contact Us" below for an incentive related to the $54 technology fee, and/or to join our group who worked on this course together.
More information:
www.lightuniversity.com/mentalhealthcoach
Register:
www.lightuniversity.com/cart/?add-to-cart=123596&apply_coupon=MHC123FREE
How We Love Seminar
From January 22, 2022
Take the Love Style quiz at 
www.howwelove.com
Compare your results with another's to find your Core Patterns at 
https://howwelove.com/core-patterns/
Find Freebies at
howwelove.com/freebies/
How We Love Small Groups
If you're interested in future groups, contact Brian Burgess directly at prbcb1994@gmail.com or 423-637-9412.